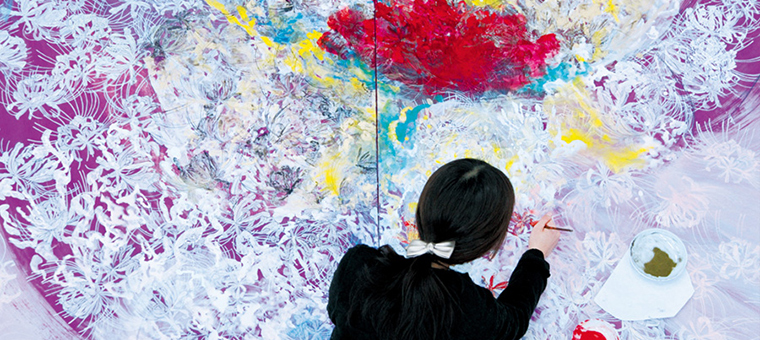 Art and Design Have Always Been Global: From MAU to the World, Aspiring to a Higher Stage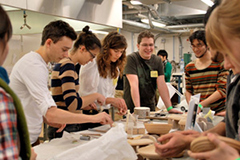 Just as a painting of sunflowers can enchant people around the world, and a cell phone with a novel design can be used worldwide, art and design are intrinsically global. The development of transportation and the Internet in our time has accelerated the globalization of society as a whole and furthered the transmission and sharing of information. This has broadened the stage of activity for artists and designers and made various opportunities more accessible than before, from holding overseas exhibitions to engaging in businesses that apply their creative talents. At MAU, the Musashino Art University Global Human Resource Development Program supports aspiring global talent through our redoubled efforts to cultivate students capable of achieving success it on the international stage.
Nurturing Global Professionals Through Diverse International Exchange and Study Abroad Programs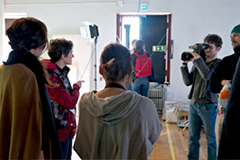 Since our establishment in 1929, MAU has remained faithful to our founding spirit of providing art education that allows students to function with true freedom as human beings and producing artists of well-rounded erudition. Based on our educational philosophy of nurturing professionals in various fields in the formative arts, focusing primarily on art and design, we have turned out many graduates who are now active worldwide.
 Actively encouraging international exchange, we have concluded agreements with leading art and design universities around the world, accepted international students and sent students overseas, implemented joint workshops and other events, held special classes conducted by visiting professors at the forefront of their fields, and supported student activities overseas.
Opening New Horizons Overseas by Refining Language, Communication, and People Skills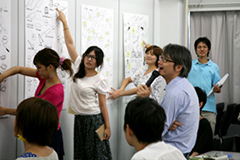 At the Musashino Art University Global Human Resource Development Program, our aim is to nurture talented people who have mastered the skills required to utilize their advanced techniques and knowledge in the fields of art and design and have acquired the foreign-language proficiency needed to fully demonstrate these skills internationally.
 As general skills required to be active globally, we focus on the mastery of 15 qualities in three categories: "language and communication skills," "autonomy and initiative," and "understanding of other cultures and the establishment of an identity as a Japanese." In addition, we have built a strong support system, stipulating specific targets for the TOEFL test and the number of students sent abroad to study.
 Furthermore, in addition to providing even more opportunities for international exchange, we will strengthen our ties to other art universities around the world and promote study abroad so that as many students as possible have the chance to study in other countries. Going forward, we will continue to improve our program and foster an environment that broadens global horizons.
Musashino Art University was selected to participate in the FY 2012 Project for Promotion of Global Human Resource Development (Faculty/school Specific) of the Japanese Ministry of Education, Culture, Sports, Science, and Technology. The grant period is scheduled to continue for five years from fiscal 2012.
Main Activities So Far
International Exchange

In the increasingly globalized fields of art and design, MAU has taken the initiative in tackling international exchange activities. We have conducted various activities both on and off campus, including partnerships with universities around the world through international exchange agreements, support for accepting international students and dispatching students for study abroad, and holding special classes by visiting professors.

World Summit of Art University Presidents

The World Summit of Art University Presidents, an event marking the 80th anniversary of MAU in 2009, brought together leading art universities in Japan and overseas to discuss the problems facing art education. In the Tokyo Declaration adopted at the summit, participants emphasized the role and responsibilities of art education and art universities and their determination to contribute to society.

Lunch Talks

Brown-bag lunch talks are held about once a month for students with an interest in conducting activities overseas. Speakers including teachers, international students, graduates, and others talk about their own experiences overseas and offer advice. These meetings are a good chance for students to think about what they will need to do to be active overseas.

Paris Award

The Paris Award was established to give promising graduates the opportunity to conduct creative production and research activities in Paris after graduation. Recipients are permitted to reside for one year at an atelier in the Cite Internationale des Arts that MAU has the right to use. They also receive a secondary prize of ¥1 million to cover research expenses.
Symbol
Design Concept:
The Global Human Resource Development Program Links MAU students and the World.
The abstract shape linking two circles incorporates the desire to form an even bigger circle through student encounters with other cultures. The present stage of study is part of the process, and the flexible shape expresses the potential for change.
The sky and ocean that cover the Earth move around the globe with no regard for national boundaries. Like clouds moving freely back and forth, the water droplet shapes symbolize this borderless existence. The design, including the images evoked by the colors, suggests truly global talent that can contribute internationally.