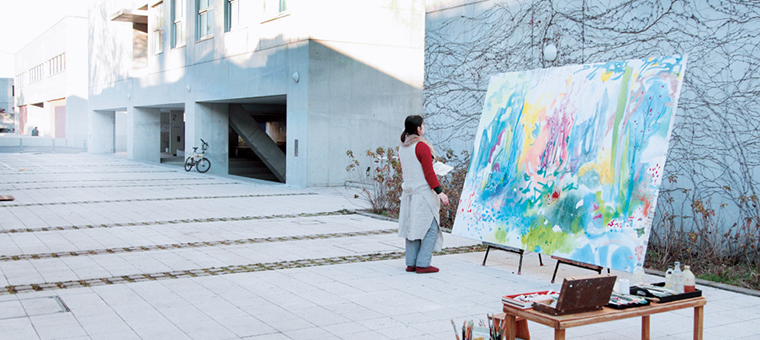 Broaden Your Learning Horizons Worldwide
Musashino Art University has started various activities and is building a support system to foster global human resources and bring MAU closer to other countries. We are also expanding opportunities for students to learn directly about conditions in the rest of the world and to learn overseas through study abroad programs and visiting professorships. We are also exploring opportunities to present artwork not only in Japan but also internationally by, for example, participating in overseas art and design competitions. Going forward, we also plan to offer even more abundant content as we reach for a global stage.
01

More opportunities to
study abroad

Hold overseas short-term intensive courses
Short-term participation in lessons, for example, at international exchange agreement partner schools

We will establish short-term study abroad programs, such as short-term summer intensive courses, through which students can acquire credits. If certain conditions are fulfilled, participation in language courses overseas will be recognized and credited by MAU.

02

Take on the world

Encourage participation in international competitions

We will encourage participation in international competitions as opportunities to take part in activities overseas. We will provide conscientious support by announcing competitions, explaining application procedures, and suggesting ways to approach such competitions, and also consider how to incorporate them into classwork.

03

Speak in your own words

Promotion of credit acquisition for foreign languages

In addition to improving the curriculum for foreign-language study, we will provide more opportunities for such study, including the establishment of special classes and greater opportunities to sit for the TOEFL iTP and TOEIC IP tests. Since we also offer many courses in foreign languages other than English, our circle of learning is growing ever wider.

04

Encounter learning
around the world

Double the number of visiting professors

We will invite experts who are active both domestically and internationally as visiting professors and hold special classes with them, including lectures and critiques. We will also broaden horizons through extraordinary classes including workshops and experimental initiatives including joint production and critiques.

05

Study with students
from around the world

Double the number of international exchange agreement partner schools
Strengthen ties with non-partner schools
Promote student international exchange plans
Increase the number of international exchange projects

In addition to increasing the number of international exchange agreement partner schools, we will promote collaboration with other schools such as exhibitions and extracurricular activities. We will also create an environment in which students actively plan and participate in international exchange projects, providing recognition for them and granting credits if certain conditions are met.